I wanted to share some of the fantastic insights from a CEDA event on Innovation Precincts that Andrea Hinwood, Victoria's Chief Environmental Scientist and I attended last week. We heard that these developments are one pathway for Victoria's continued economic and social prosperity. We can never forget though that our prosperity and liveability, is intrinsically linked to our environment. People prefer to work and live in a clean and healthy environment.
Environmental practice and protection operates at the nexus of science, innovation, growth, environment and human health so this panel session, talking about a particular pathway for growth, was particularly interesting for Andrea and I. The conversation centered around the opportunities that Innovation Precincts will offer Melbourne in the future and asked, "how can we accelerate their contribution to economic development and job creation". The razor-sharp panelists included Stuart Moseley (far right), Chief Executive Officer Victorian Planning Authority; Tim O'Loan, Director of Cities, Melbourne, AECOM; Rose Hiscock (centre), Director, Science Gallery Melbourne and Lead, Innovation Precinct Engagement, University of Melbourne.
The timing is right to gear up our policy frameworks to develop innovation precincts in Victoria. These are not blue sky, space-age, futuristic laboratories in concrete jungles. Innovation precincts must be spaces in our cities where people live, work and thrive; that are sustainable, offer economic and social prosperity and contribute in a positive way to our overall quality of life. They must make cities and towns great places to live and work. But what is an Innovation Precinct?
Brookings Institution research describes how a growing emphasis on collaboration is contributing to a new geography of innovation called innovation districts, or innovation precincts, across all global regions. In these enclaves, research-laden anchor institutions and companies cluster in close quarters to foster conditions that lead to innovative growth [1]. 
However, it is important that this innovative growth factors in the importance of a healthy environment into precinct planning upfront. Precincts must contribute to the sustainable development of our cities and towns.
Stuart Moseley captured the floor when he talked about the three essential ingredients for a successful innovation precinct as being:
• Anchors – Why the right tenants are so critical
• Accessibility – Physical and digital accessibility is paramount
• Activation – The importance of clustering the right like-minded tenants
Stuart also reminded us that the first two pieces in the development process are for Government to explain why innovation precincts are important and to provide clear policy intent. Stuart recognised the work currently underway by Justin Hanney's team in DEDJTR in Victoria to develop the policy frameworks.
I am exposed to a lot of conversations about "innovation" and the 'future of cities" and found it refreshing to hear the great panel discussion and Stuart's summary of the drivers of these precincts which will be vital for Victoria's economic and social future. Rose also reminded us that the creative arts and science are at the core of innovation precincts.
Wagner and Katz (2017) report that to date, two of the most successful of Australia's innovation precincts have been spearheaded by the University of Melbourne and now are surrounded by a growing cluster of companies, start-ups and innovation spaces.
Melbourne's biomedical precinct is home to more than 10,000 scientists, clinicians and technical staff, all within a walkable 1km radius. Spin-offs from this precinct have included a $560 million deal for drugs to alleviate conditions relating to fibrosis and a $198m deal for an innovative head lice product.
Carlton Connect, the second precinct within Melbourne's innovation ecosystem, aims to supercharge its innovation by lever­aging proximity and partnerships — a particularly striking challenge for Australia given the country ranked last in the OECD for industry-research collaborations.
Add another A to the list
As our population and economy continue to grow, we must have the right environmental policies and settings in place to maintain our liveability. My Office spends a lot of time discussing specific environmental measures and indicators that need to be a part of any plans for development, innovation precinct or otherwise.
The Commissioner for Environmental Sustainability Act 2003 defines Ecologically Sustainable Development (ESD) as:
"…..development that improves the total quality of life, both now and in the future, in a way that maintains the ecological processes on which life depends." [2] (Section 4 of The Act.)
However, although defined in the Act in 2003, in the decade following the establishment of the Act, ESD had not been operationalised into Victorian state of the environment reporting. The adoption of the UN Sustainable Development Goals in 2015 is a game changer as it provides an international framework to establish ESD indicators for Victoria - that work is underway now by my team and will feature in the 2018 Victorian State of the Environment report.
In the meantime, I would like to add another A to the list: #AirQuality. Air quality is a key indicator for ecologically sustainable development. We know air quality is a key factor for human health and an important indicator of environmental health that can be readily applied now – we have the science, monitoring and interpretation skills. The 2018 Victorian SoE report will look at over 200 indicators of environmental condition but if we could just focus and invest in better monitoring and understanding of one, let's make it air quality.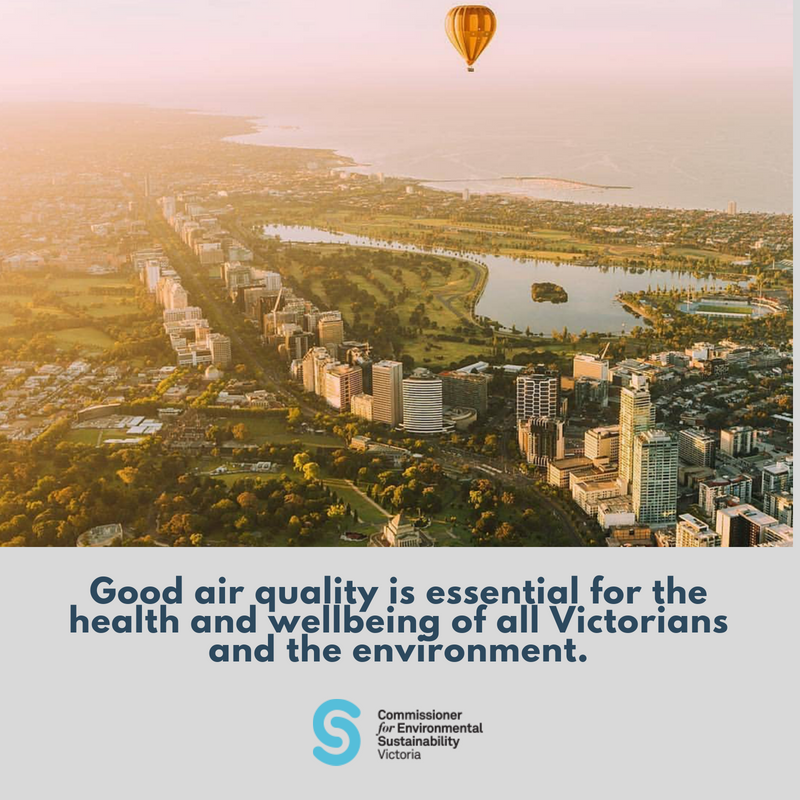 Air quality is such a critical part of any growth vision for our cities and towns. Everyone needs good air. It is something that is oblivious to socio-economic status. It is a defining factor for a liveable city of the future. The city is on track to become the country's biggest city by 2030, with a forecast population of eight million. [3]
EPA Victoria is working hard on improving Victoria's air monitoring networks, this was an important recommendation of the EPA Inquiry Panel and the Clean Air for All Victorians: Victoria's Air Quality Statement reflects the importance placed on securing a clean air future for all Victorians. Our air quality has improved significantly over recent decades and remains good by international standards. However, there are challenges ahead – a growing population and economy, and a warming and drying climate, risk increasing air pollution without effective steps now.
It is great to see the co-design approach being taken by EPA to developing monitoring networks, is continuing through the Clean Air Summit to be held on 27 August 2018.
The Summit will bring together people and organisations interested in minimising air pollution and securing a clean air future for Victoria, including community members, interest groups, industry, local government and air quality specialists. Attendees will collaborate to identify opportunities to improve air quality through to 2030, building on proposals received in response to the Minister's recent Victorian Air Quality Statement – Clean Air for All Victorians. Solutions identified will be critical in informing the development of a comprehensive Victorian Air Quality Strategy in 2019.
Over the past four years, the Office has been working to align Victoria with international environmental reporting initiatives and improve the efficacy of our collective environmental monitoring and reporting effort. Look at it like moving from two-dimensional reports that sit on shelves to three-dimensional reports developed by people who are collaborating with the operations arm of government to help bring our ideas to life in real time – through investment in science and research – and because we understand and are promoting the tools and capabilities of the future for managing the environment - tools and capabilities too.
ESD in Victoria will require continued investment and focus on:
• Alignment with the UN Sustainable Development Goals (SDGs) as an internationally recognized framework against which to measure, monitor and manage growth
• Environmental Economic Accounting (EEA) as a tool to quantify environmental benefit (e.g. of ecosystem services such as clean air, biodiversity and marine environments) in economic terms
• Digital, spatial monitoring and reporting to enable government and citizens to better participate in the understanding of environmental information in real-time.
These are the enabling frameworks and capabilities for liveability and growth.
I am looking forward to conversations over the coming weeks around innovation precincts and the importance of environmental sustainability to policy and planning and continuing research that will inform sections of the 2018 Victorian State of the Environment (SoE) report chapter "Future Focus 2030". The 2018 Victorian SoE report will be a comprehensive appraisal of our current state and take a considered view about the areas of focus for Victoria over the next decade, that will be required to protect and enhance the health of our environment.
The interim SoE report will be released on July 30. It frames the full SoE which will be released in early 2019.
Footnotes 
[1] Wagner and Katz (2017) https://www.theaustralian.com.au/higher-education/opinion/innovation-precincts-a-place-in-which-to-grow/news-story/c6ba6e577005f14e8370f08e4fb512fa
[2] Commissioner for Environmental Sustainability Act 2003 (austlii.edu.au)
[3] https://www.news.com.au/finance/economy/australian-economy/melbourne-population-to-soar-past-sydney-within-decade/news-story/e88a537f61de7b74c2897d102a40cc10